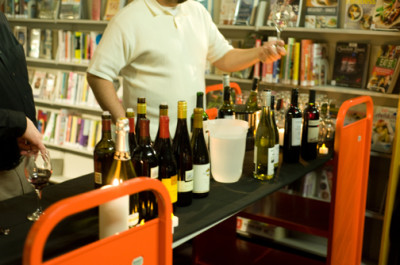 The Foundation's second annual "Libations at the Library" was rescheduled for Wednesday, December 11, after a storm advisory made the original date of Tuesday, December 3, a dangerous choice. Despite the change and the stormy weather, the event was a great success, with even more guests in attendance than last year.
Stalwart guests, wrapped against the cold, entered the warm candlelit library. After shedding their coats on the main floor, guests were urged upstairs, armed with a glass of champagne, to partake of excellent food provided by Valentini's and to sample a delicious array of wines offered by Super One Liquor. Guests mingled to the sounds of violin-and-cello duet Ryan and Alisha Bradley. A Power Point film presented vintage photographs and interesting facts concerning the history of the parcel of land on which the Duluth Public Library now sits (known for several years as "The Bowery"), providing an informative and engaging summary of the changes seen by this part of the city over the course of the last 100+ years. This was prepared by members of the Reference Department.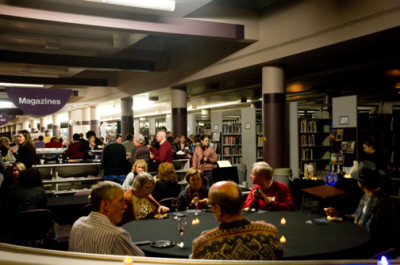 This year's "Libations" also featured an appearance by Mayor Don Ness and a brief presentation by three members of the library's Teen Anime/Manga Club, which was started in 2013 at the request of teens and is supported by a grant from the Duluth Library Foundation.
The Foundation is already making plans for 2014's event, which will be named "Libations and Learning at the Library" and will be held this coming fall–before snow season begins!