In 1998, Mark Elden was in the downtown library, where he noticed a b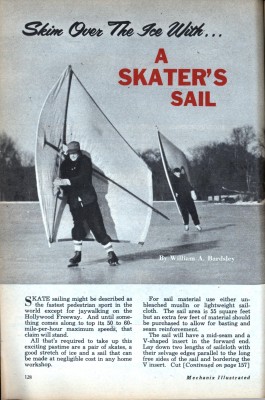 ook display about ice boats. He had grown up on Park Point and was familiar with them. He picked up the book "Sailing on Ice," by Jack Andresen, and came across a chapter on skate sailing.
Skate sailing?
The sport paired a semi- triangular hand-held sail with a good pair of hockey or racing skates. The skater could zoom across the ice by just keeping his balance and catching the wind in the flexible sail.
Mark was so drawn to the idea of skate sailing on Lake Superior that he checked out the book and decided to make a skate sail of his own. With some green boat cover fabric, "cold crack" (the clear plastic you used to create a "window" on the sail), and PVC conduit, he built his own and was soon skate sailing on the frozen surface of the big lake.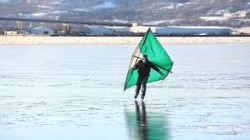 Eighteen years later, local Duluth News Tribune photographer Bob King saw him sailing gracefully on the bay and snapped a picture of it. The photo graced the front page of the Local section of the paper on January 5, 2016.
And it was all because of a book in the library!