Author Touches Down in Northland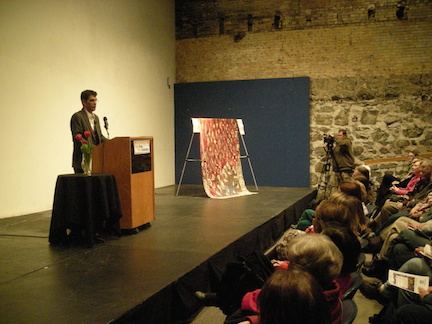 By Patra Sevastiades
Author Steven Galloway, who wrote the book pick for this spring's One Book, One Community program, swept into the Northland from Vancouver, British Columbia. In the course of 40 hours, the author of The Cellist of Sarajevo participated in two separate presentations: one in Cloquet, where he was interviewed in front of an overflow crowd at the Cloquet Public Library by author, publisher, and judge Mark Munger, and one in Duluth, where he was welcomed by Mayor Don Ness and wowed a full house at Fitger's Spirit of the North Theater. He thanked those gathered that evening, then took a sip of water from the glass provided and said, "You have great tap water here. I make a study of tap water." The crowd laughed, and the author warmed to his subject.
Galloway said that he had been inspired to research and write The Cellist of Sarajevo when he saw a photograph of Vedran Smailovic, the actual cellist of Sarajevo, in a magazine in a doctor's waiting room.  He then enumerated some of the themes that created an arc in his book. The idea that civilization is the sum of daily decisions we make to get along—and the roads, bridges, and museums we enjoy are a result of those decisions, not the other way around; the concept that, as a social reality, it is easy to hate another person or group of people and harder to love them; the fact that in war, for every 1 military combatant that dies, 9 civilians also die; the perception that art is not a leisure activity participated in by those with spare time or money—in fact, art production actually increases during wartime—it is part of our survival as humans. It was a riveting presentation about ideas.
He also discussed his new book, The Confabulist. What prompted him to write the book? he was asked. He said that he vividly recounted an afternoon of playing checkers in the sunshine with his beautifully dressed Great Uncle Johnny, who sat down, took off his hat, rolled up his sleeves, and allowed the 5-year-old Galloway to win the game. But at age 32, Galloway learned that that Great Uncle Johnny had actually died a year before Galloway was born. What was he to make of the memory? This incredibly vivid false memory was the genesis of the book, a work of historical fiction about Harry Houdini.