In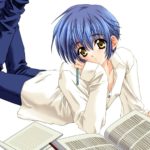 October, Erik Torch, Grants Manager of the Northland Foundation, stopped by the library to join the Teen Anime & Manga Club. You can see him in the photo above, holding a Halloween-themed flashing eyeball, with teens from the group, who are sporting Halloween masks. Some have flashing eyeballs, too. Library Manager Carla Powers, youth services professionals Kristy Nerhaugen and Heidi Harrison, who oversee the Club (and so much more), Dan D'Allaird, president of the Duluth Library Foundation, and Patra Sevastiades, Executive Director of the Duluth Library Foundation, were also there. It was an opportunity to thank Erik for a grant that will fund the Teen Anime & Manga Club for another year.
Heidi Harrison told Erik the story of how the Club started and what a difference it has made for teens.
"Four years ago, a girl I'll call Zoe* approached me with an idea: To create an anime and manga club at the library for teens in Duluth. She said, 'If you do this, teens will come.'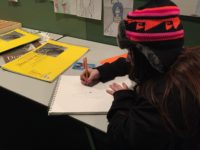 "'Teen anime and manga club?' I thought: What language are you speaking?"
As it turns out: Japanese.
Today, 62 young people are members of the Club. They come to the library after school once a month to meet other teens with a common interest, create art, play games, watch anime and share food in a safe, welcoming environment. "We've had teens attending from as far away as the Ojibway School, Proctor, Denfeld, even Two Harbors," said Heidi.
"From Zoe," she continued, "I learned that manga is what I might call a graphic novel, or (wrongly) a comic book, created in Japan. Anime is the screen or animated version of these books. Kids who are fans are usually passionate about the art of drawing, Japanese culture, and the adventures of their favorite characters.
"John* showed me something else about the Club. One day, we had a special Anime Club meeting to host a group of teens visiting from Superior's sister city, Ami-machi, Japan. John helped me with the program, served food, and assisted Japanese students on a special craft project. He stayed after to help stack chairs, and we talked. He told me that his grandfather had died that morning. John said he was glad he could come to the library. We talked about grandparents and the role they play in our lives and how important they are.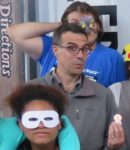 "Then there is Ormand*." He gave a presentation to the Club in August about a business that he and two other Club members are forming to create and publish their own manga, with original art and story lines. That day, he passed out their new business cards.
"I don't know what you were doing at age 17," quipped Heidi, "but I know that I was not starting a business!"
All gathered for a group photo in appreciation for the grant, which was secured by the Library Foundation.
"You support teens like these when you donate to the Duluth Library Foundation," said Heidi, "giving them a safe, welcoming place to hang out, and access to great programs, movies, books, and friends!"
*Minors' names changed for reasons of privacy.