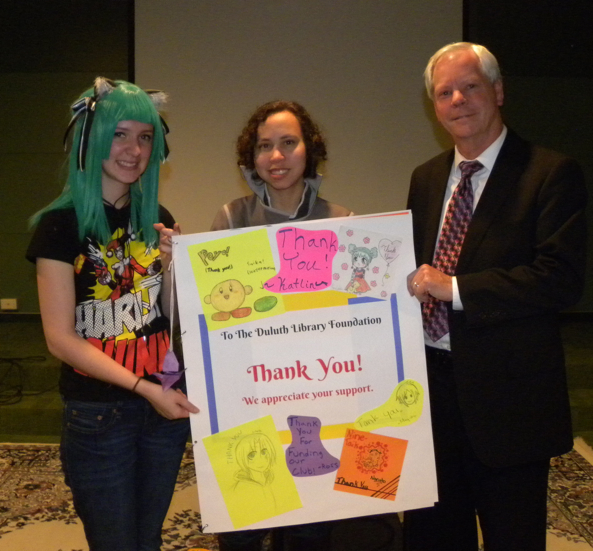 By Patra Sevastiades
One year ago, the Youth Services staff of the library invited teens to meet and share ideas about what they wanted to do. One person showed up, high school student Zoe Kenville, who asked if the library would form a club for people interested in anime (Japanese animation) and manga (Japanese graphic novels). The enthusiastic librarians agreed, and the Teen Anime and Manga Club was born.
The monthly meetings sometimes attracted as many as 42 students. Librarians Heidi Harrison and Colleen Knettel organized the kids, who met in the Green Room to watch episodes of anime series and to discuss manga.
The librarians realized that it would make a difference if the library club, which meets right after school, could provide food and beverages for the teens.
Enter the Duluth Library Foundation. Last summer, the Foundation board decided to make teens and teen programming at the library a priority. "Creating the club was an idea that came from the teens, and we wanted to support their enthusiasm," said Foundation board president Dan D'Allaird. The Foundation designated a grant of $2,000 for the Club for food and other expenses.
"When we told the teens about the $2,000, they broke out into spontaneous applause," said Heidi Harrison. "I think it was a surprise to some of them that they were valued that much," added Colleen Knettel. The teens handmade an oversized thank you card for the Foundation and delivered it to board member Dean Casperson.
"It was a pleasure to see how much they appreciated the gift," said Casperson. "We're delighted to support programming that brings teens to the library."
Pictured above: Zoe Kenville, Jessica Billeter, and Dean Casperson thank the Duluth Library Foundation.