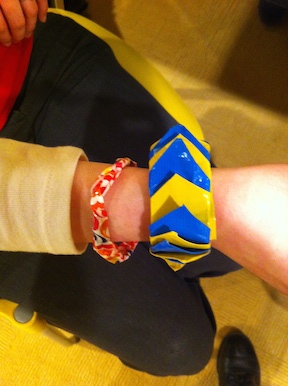 Maker culture has arrived at the Duluth Public Library! But what is it? Simply put, maker culture is a technology-based extension of DIY culture, including such things as electronics and robotics. It often integrates a technology-driven approach to traditional arts and crafts. There is a strong focus and learning and using practical skills and applying them creatively.
On May 8, teens were invited to come and make duct tape bracelets, origami stars, and "tapetricity" cards with LED lights.
"We had great teen participation in the event," said Heidi Harrison of Youth Services. "The teens took what we thought were creative projects to a whole other level by incorporating the LED lights meant for the cards into the duct tape bracelets, creating glowing rings! We should never underestimate the creative power of our local youth."
The library plans to continue teen programming over the summer months as well. See the library website, www.duluthlibrary.org, for more information.
The Maker Faire event was made possible by the generous donors who support the Duluth Library Foundation.
By Patra Sevastiades