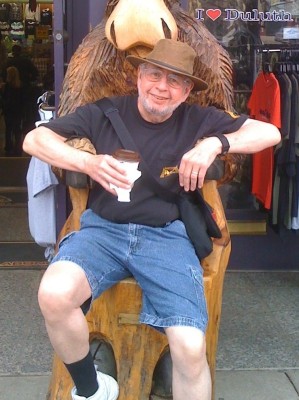 I grew up in Duluth, and when I was a kid (6-8 years old), I used to dial up and down the band on my folks' Philco radio. I liked programs such as "The Firestone Hour" and the "Bell Telephone Hour." Programs like these were distributed to radio stations on large disks—phonograph records, but larger than consumer versions. In those days, there were no real networks, so individual stations could decide when to play them, although it was usually on the same night. Thus, by dialing back and forth, I could hear the same program several times.
One memorable night, a station played Wagner's "Ride of the Valkyries" from Die Walküre. I was utterly transfixed. I dialed frantically until I had heard it played three times that same evening. I copied the information: Act III, Scene I. I went to the downtown Carnegie Library (pictured below) to see if they had it in their music collection. They did!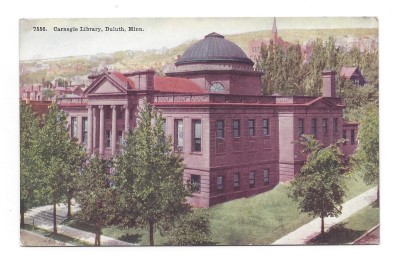 I raced home with a sack full of heavy records and mounted the first one on our ancient portable phonograph. To my surprise and chagrin, I had brought home Act III, Scene III, the "Magic Fire Music" and "Wotan's Farewell" to his "willful" daughter, Brunhilde. I played it through and soon realized the depth of this scene. It became my new favorite.
A few years later, when I was in high school, I would regularly volunteer to wash my dad's car. Our 1950 Oldsmobile had easily the best radio in the house, and I could listen to the Metropolitan Opera.
Fifty years passed. I finally submitted a question to the "Metropolitan Opera Quiz," based on those early experiences. It was a rather esoteric question about how opera singers communicate from the stage, switching from spoken words to song.
My question didn't appear on the "Metropolitan Opera Quiz." Instead it went directly to the "Singers' Round Table," which featured, that day, three of my favorite singers. I was thrilled! Some time later, a delivery truck backed up our driveway with boxes of CDs, books, and other prizes from the "Singers' Round Table."
I still listen to the opera, but have not had the temerity to submit another question. I don't think that lightning will strike twice in this case . . .
(This library story was provided by Robert–who still loves the library, Wagner, and music.)
—