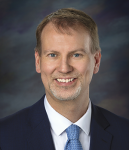 David Moeller, President
David is senior regulatory counsel at Minnesota Power/ALLETE. He handles a variety of regulatory and energy policy issues focusing on renewable energy projects. Prior to joining Minnesota Power, David was a staff attorney at Farmers' Legal Action Group. He is a board member of the Rajala Woods Foundation and the MSBA Public Utilities Section and has served on the Minnesota Supreme Court's Legal Services Advisory Committee and the St. Louis River Quest board.   He is a graduate of the University of Minnesota Law School and Macalester College.  David is married to Bryce, and they have two children, Luke and Audrey, all avid library users. He has been an active library patron since obtaining his first library card during elementary school from his hometown Carnegie Library in Luverne, Minnesota.
Matt Rosendahl, Vice President
Matt is the Library Director of the Kathryn A. Martin Library at the University of Minnesota, Duluth. He has worked as a library director since 2004. He has served in state and national library associations, and in statewide projects such as Ebooks Minnesota and the Council of Academic Library Directors' Cooperative Collection Management project. He co-founded the Lake Superior Libraries Symposium and is a member of the Duluth Public Library Board. His community service includes membership on the Glensheen Advisory Council.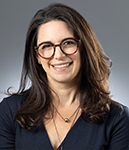 Jennifer Berges, Treasurer
Jennifer serves as the Director of Philanthropy for EngenderHealth, a global health organization committed to advancing sexual and reproductive health and rights. She previously served for 10 years as the development director for the College of Arts, Humanities, and Social Sciences at the University of Minnesota Duluth. She holds a bachelor of arts in history and American culture studies from Washington University in St. Louis and a master of business administration from the University of South Florida. Jennifer's family is from the Dominican Republic. She grew up in a bilingual household that greatly valued all forms of education. She believes public libraries are an integral part of a thriving community, providing access to education for all.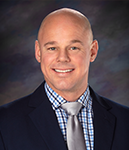 Doug Bremer
Doug is a Commercial Loan Officer at Members Cooperative Credit Union and has called Duluth home for more than two decades. He is an active member of the local community and has enjoyed serving on the boards of several local business and community organizations. Doug's father was a career librarian, and his mother was an educator, so the library was an integral part of his upbringing.  Doug lives in Duluth with his wife, their three children, and their two Old English Sheepdogs. His interests include linguistics, poetry, and plant care. He also enjoys martial arts, mountain biking, and traveling with his family as much as possible.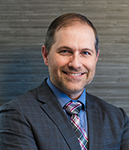 Craig Chilcote
Craig is a licensed CPA and the managing partner for Anderson Kuiti & Asuma PLLC.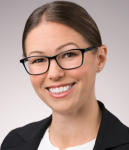 Leah Fisher
Leah is a family law attorney at Hanft Fride, PA, representing individuals in a broad range of matters, including divorce, custody, parenting time, child support, adoption, and other general family matters. Prior to joining Hanft Fride, Leah worked for the Volunteer Attorney Program in Duluth, providing pro bono legal services to low-income individuals in the community. She continues to work as a volunteer attorney and has been recognized by the Minnesota State Bar Association for her commitment to providing pro bono representation. Leah earned her undergraduate degree at the University of Wisconsin, Superior, and her law degree at Seattle University School of Law.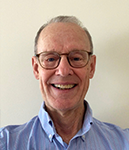 Greg Fox
Greg was lucky enough to live near the beautiful West Duluth Library and went there to study and meet friends several times a week when he was in school. After graduating from Denfeld High School he attended the University of Minnesota Duluth and later did graduate work at the University of Washington. He returned to UMD in 1974 and began a 38 year career first as the assistant director of Continuing Education and Extension and later as the Vice Chancellor of Finance and Operations. He has been active in the community and served as chair of the DECC board, the Chamber of Commerce, Goodwill Industries board, He has cochaired a United Way annual campaign and the Damiano Center facilities campaign. He has been married for more than 50 years to Sheila. They have two children and four grandchildren. Each week they are at Laura MacArthur Elementary School working on reading with first graders.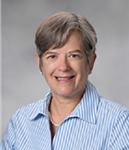 Susan Goltz, M.D.
Born and raised in North Dakota, Susan has been practicing medicine at St. Luke's Obstetrics and Gynecology Associates since 1992. She received both her undergraduate and medical degrees from the University of North Dakota and did her residency in St. Paul. Susan is married to Stan, and they have two sons, John and David. She is a lifelong reader and library supporter who enjoys travel, outdoor sports, cabin life, and knitting.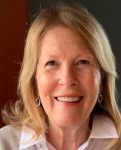 Sherry Hall
An alumna of the University of Minnesota, Duluth, Sherry returned to Duluth from Washington, D.C. In her time in the nation's capital, she worked in various capacities in service of the United States Senate: as office manager for the Select Committee on Intelligence (Church Committee), as chief clerk of the Temporary Select Committee to Study the Senate Committee System, as deputy staff director for the Select Committee on Ethics, and as a staff member of the Select Committee on Intelligence. She subsequently served as Manager of Corporate Affairs at Lockheed Corporation, was Executive Director of the Salmon Arts Council, served as Project Editor at the Historical Office of the United States Senate, and worked as Executive Director of PAL, Inc. She is now Chair of the College of Liberal Arts Advisory Board at UMD.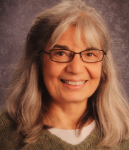 Theresa O'Gara
Theresa has worked as a speech pathologist in the Duluth Public Schools for 35 years. She calls the public library "an integral part of my life," and is aware of the multiple ways that the Duluth Public Library system strengthens the community. Theresa is married to Tom O'Gara, a retired school psychologist, and has two daughters.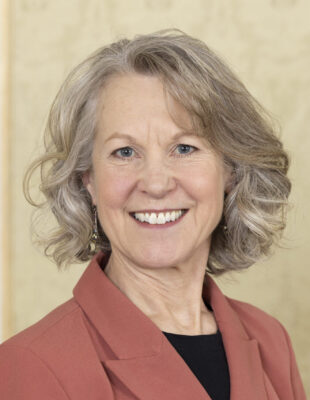 Carla Powers, Library Manager
Carla had a brief career in broadcast journalism, but once she discovered public library work, she was hooked. She earned her Master's Degree in Library and Information Science in 2000 and was director of the public library in Rice Lake, Wisconsin, for several years. Carla has been library manager in Duluth since 2009 and has worked closely with the Foundation. She enjoys living in a community that values its libraries.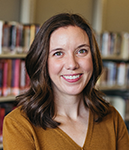 Erin Kreeger, Executive Director
After living and working in Washington, D.C. for nearly a decade, Erin chose Minnesota as her forever home and moved to Duluth in the winter of 2017. Erin began her career working in public policy, specifically criminal justice reform at the federal and state level for both private and non-profit organizations. After relocating to Duluth, Erin supported The College of St. Scholastica as a fundraiser, overseeing their annual giving program. Erin holds a Bachelor of Arts degree in International Studies from the University of Wyoming and a Master's in Public Administration from George Mason University. In her free time, Erin and her family enjoy taking advantage of all the outdoor activities available in northern Minnesota, including hiking, camping, cross country skiing, and connecting with all the lakes and rivers in the area. Erin comes from a family of educators and knows the importance of public libraries in supporting educational access and serving as the center of a community where all people are welcome.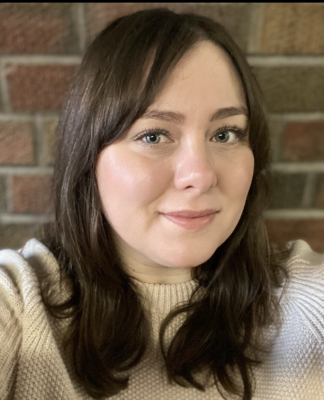 Amanda Peterson, Marketing and Events Coordinator
Amanda joined the foundation from the Duluth non-profit scene, working 17 years in programming dedicated to ending poverty and creating a more equitable and just community. She graduated from the College of St. Scholastica with a Bachelors of Arts in Social Work and has lived, worked, and volunteered in our community for over twenty years. A lifelong lover of books, Amanda believes that libraries don't just connect us to an entire world of information and art, but also to each other. In her free time, Amanda loves spending time with her partner, Tim, and their dog and two cats, watching classic scary movies, and attempting to bake fancy desserts (with mixed results).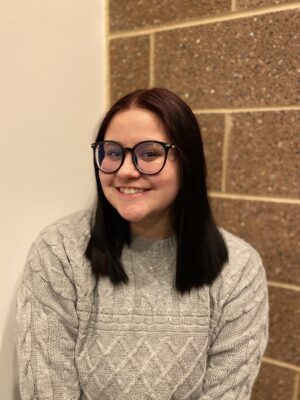 Scarlet Pantlin, Marketing and Event Management Intern
Scarlet is a senior Communications major at The College of St. Scholastica. She is double minoring in Spanish and Social Media Studies to complement her major. Scarlet has always been an avid reader who loves libraries. She was advantageous as a kid and asked how old she had to be to work at her local library, instead the library allowed her to volunteer there which made her grow to love libraries more. Scarlet has always loved escaping into the world that books provide. Outside of reading, Scarlet enjoys to hike, spend time with loved ones, play rugby, pick up new crafting hobbies, thrifting, photography, and dreaming of owning a dog after graduation. Although she is a Minnesota native, she hopes to spend time traveling the world after graduation.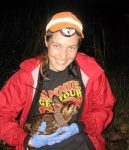 Morgan Swingen, Volunteer
Morgan is a wildlife biologist with a tribal natural resources agency, studying wolves, moose, furbearers, and other culturally important species. In the past she has also worked with bats, coyotes, bears, waterfowl, and turtles. She has a Bachelor's degree in Biology from Minnesota State University, Moorhead, and a Master's Degree in Fisheries, Wildlife, and Conservation Biology from North Carolina State University. She grew up going to her local library often, and is glad to support the Duluth Library Foundation. In her free time, she enjoys reading, cooking, watching musicals, and spending time outdoors with her husband and dog.