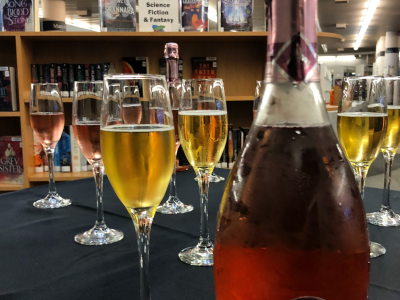 Learning & Libations at the Library
Eight speakers, fine food, wine and beer, a string quartet, black tablecloths, candlelight—a splendid event after hours in the downtown library! Every September, the Duluth Library Foundation's signature fundraising event is held in the library in support of the work of the Duluth Public Library. Guests are enlightened by eight outstanding speakers and spend the evening in the company of interesting people, partaking of delicious appetizers and a delectable selection of wine and beer, all to benefit the library.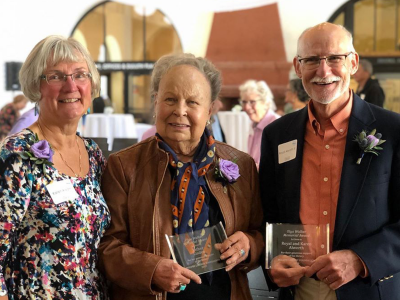 Olga Walker Memorial Event
Olga Walker loved the Duluth Public Library. When Mrs. Walker died in 1964, her will designated the library as her sole beneficiary, and it directed that her $50,000 bequest be placed in trust for 21 years. In 1990, the Library Board used it as the seed money for an endowment to benefit the library in perpetuity and created the Duluth Library Foundation to manage it. Since that time, the endowment has grown to a value of $1.7 million and annually benefits the Duluth Public Library. Each year, the Foundation hosts the Olga Walker Memorial Awards ceremony, honoring donors who, like Mrs. Walker, have generously supported the library through the Duluth Library Foundation. Their stories are an inspiration.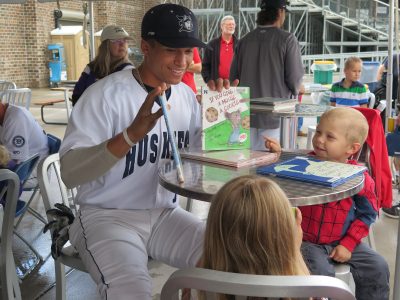 Books & Baseball Day at Wade Stadium
The Foundation partners with the Duluth Huskies baseball team each summer for Books & Baseball Day at Wade Stadium. Each child chooses a free book to keep. Just before game time, the athletes hit the field, where they are joined by children and their families. Players read books to the children, demonstrating the importance of reading, especially during summer, to avoid a decline in academic skills known as "summer slide." Children see the athletes modeling the importance of literacy and are encouraged to sign up for the library's summer reading program.
I Love My Library!
Tell me more about the life-changing work of the Duluth Public Library.