The Duluth Library Foundation, in partnership with the City of Duluth, Duluth Public Library, and Workforce Development held a joint press conference on February 22, 2023, to discuss plans to partake in an equity-centered community engagement process in hopes to create a community-informed redesign of the Main Library downtown. The redesign of the city building will co-locate the library and workforce development, along with additional human service partners to create a community hub of radical belonging. The Main Library, located in downtown Duluth, is in critical need of updates to infrastructure and design to support the programming services and interests of the community.
"Libraries are unique in that they serve as a community hub and they are free for all people of all backgrounds," said Erin Kreeger, Executive Director of the Duluth Library Foundation, "We are excited about the opportunity to update this facility to meet the current and future needs of both the library and workforce development, and really to imagine what a creative and innovative space can bring to the downtown area."
The Duluth Library Foundation plans to invest $150,000 in funding toward collecting community input and developing a pre-design concept for the new building. On February 27, 2023, the Duluth City Council voted to match this amount with federal pandemic relief funding the city received as a result of the American Rescue Plan Act. At that same council meeting, contracts with NEOO Partners Inc. to lead community outreach efforts and MSR Design to draw up architectural pre-design of the facility were approved.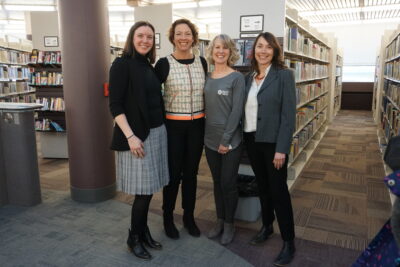 The importance of the redesign of the library space was personified by crucial figures within the project. (Pictured left to right) Erin Kreeger, Director of Duluth Library Foundation; Emily Larson, Mayor of the City of Duluth; Carla Powers, Library Manager; and Elena Foshay, Director of Workforce Development.